TICK TWISTER clamps for pulling out the ticks
| | |
| --- | --- |
| Shipping within | 24h |
| Shipping price | 89 |
Zadzwoń i zamów: 795244917 lub 577757706
Description

Reviews & ratings (0)
TICK TWISTER clamps®
Introducing a set of two hooks for removing ticks. They remove the tick quickly and without pain, in its entirety, without squeezing its body.
The set includes two hooks:
large - for large sized forceps

small - for small and for use in hard-to-reach places, e.g. ears.
TICK TWISTER® The forceps are made of a polymer resin, non-wearing and unbreakable. It is a reusable product.
TICK TWISTER® The tick trap is a simple, reliable and safe tool for removing ticks, developed by a practitioner, veterinarian, Dr. Denis Heitz.
TICK TWISTER® can be used to remove ticks from the body:
human (adult, child)

animals (dog, cat, horses, etc.)
How to remove a tick using a tick trap:
Choose the hook depending on the size of the tick.

Insert it from the side of the tick.

Raise the hook slightly and TURN until the tick comes out (1 - 3 turns).

The place left by the tick must be disinfected.

Disinfect the forceps and keep it for next use.
When removing the tick, you MUST NOT:
tear it out, pull it (risk of leaving fragments of the tick's body in the skin, which may cause pain, inflammation or even infections)

squeezing (risk of introducing arachnid saliva or injecting intestinal contents with pathogens into the victim's body)

stew with fat, spirit, ether etc. or burn (risk as above)
The original TICK TWISTER® hooks are made in France by H3D.
Distributor: Portica
The product is originally packed, along with the instruction manual in Polish. When you buy a set of TICK TWISTER® forceps, you will get what you see in the pictures below.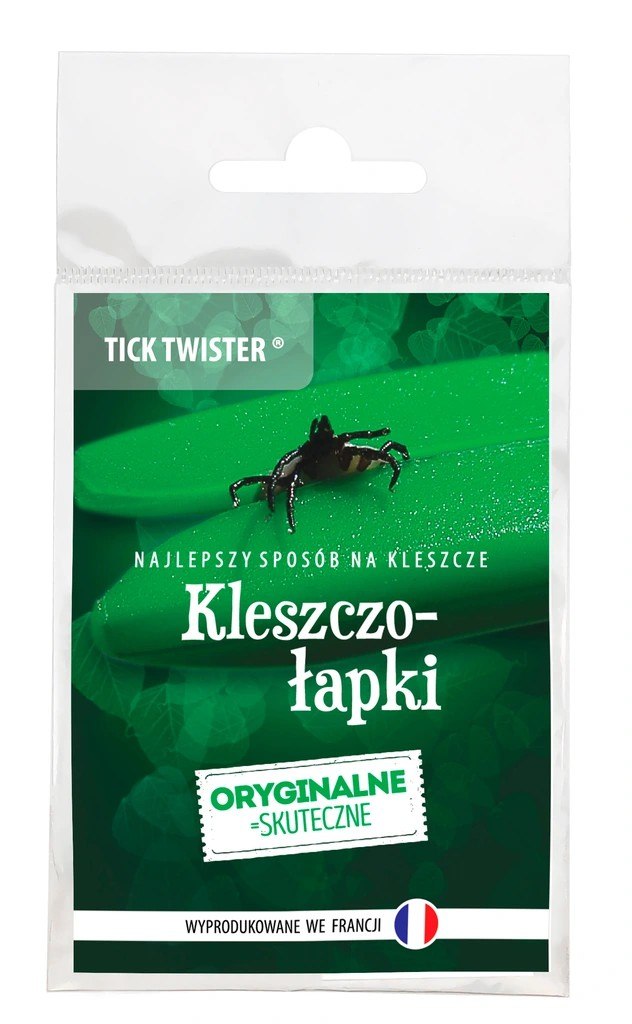 There is currently no comments or ratings for this product.

Recently viewed products

Other Customers also purchased

Similar products