PONCHO RIP-STOP PILGRIM OLIVE CAMOTEC
| | |
| --- | --- |
| Shipping within | 24 hours |
| Shipping price | 0 |
Zadzwoń i zamów: 795244917 lub 577757706
Description

Reviews & ratings (0)
Features of the model
Poncho with cover. A multifunctional product that can serve as a weatherproof weatherproof cape, awning or tent as a temporary shelter or ground cover. High-quality double-sided buttons are used to connect the front and back of the poncho. With the help of a system of buttons, a poncho can serve not just as a cape, but transforms into a cloak with sleeves. To expand the functionality, the product is equipped with eyelets, buttons, cover and weights. Good balance between waterproofing, breathability and lightness of the product. Weight with cover ±450 g.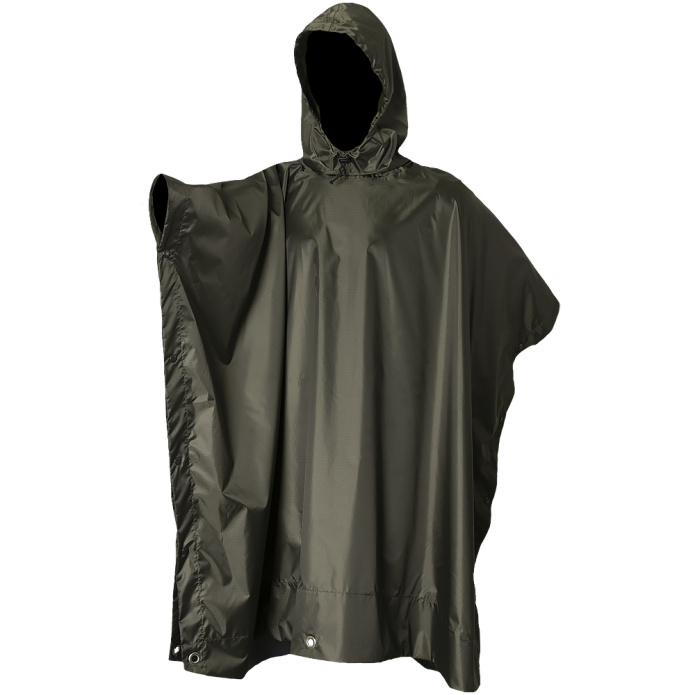 WARNING! All seams on the inside are taped with a transparent film, as on membrane jackets. The size of the poncho allows you to close from the weather not only the owner but also his cargo (backpack, trunk, bag, etc.).
Fabric features
Wind and moisture protection. Rip-stop. Density 180 g / m2. Resistance to physical and chemical influences. Thermoregulation. Polyester is a synthetic fiber with functional characteristics. It is a light, strong, dense fabric, "breathable", fast-drying and wear-resistant. The outer surface of the fabric is coated with a water-repellent substance to reduce water absorption into the top layer of fabric, and the inner surface is coated with polyurethane (PU 4000mm), which improves the water resistance of the fabric and allows you to glue the seams. The fabric is guaranteed to withstand a water column pressure of 4000 mm
Furniture
Reinforced COATS thread. Eyelets - 8 mm brass. Button - double-sided brass.
Contact:
Paweł: +48 795 244 917
+48 888 576 333
Mateusz: +48 577 757 706
There is currently no comments or ratings for this product.

Recently viewed products

Other Customers also purchased

Similar products