Adhesive Dr. Boat + Liquid Rubber Patch Liquid Patch EVA
| | |
| --- | --- |
| Shipping within | 24 hours |
| Shipping price | 0 |
Zadzwoń i zamów: 795244917 lub 577757706
Description

Reviews & ratings (0)
Adhesive Dr. Boat + Liquid Rubber Patch Liquid Patch EVA
*Specialized ADHESIVE FOR PVC Pontoons and Pools made of PVC DR.BOAT 2 IN 1 (glue and liquid patch) with the effect of cold welding + reinforcing mesh for free
.
EFFECTIVE ADHESIVE FOR PONTOONS, POOLS AND OTHER PVC PRODUCTS.
Adhesive DR. BOAT 2 in 1 is an innovative combination of a liquid patch and glue for various plastics

.
Liquid patch - it is nothing more than PVC in a liquid form, i.e. the original material from which the repaired product was actually made.
We offer an innovative and specialized new adhesive for the repair of PVC products. It can be used to glue pontoons, swimming pools, tarpaulins and other objects made of plastic.
DR.BOAT - is a product capable of removing virtually any defect caused to a PVC product at the molecular level.
The main advantages and distinguishing features of DR. BOAT:
The glue is specialized. The formula of the adhesive is designed in such a way that it can be used to repair items used in fresh and salt water.

You can use it as standard glue for sticking patches or as a liquid patch.

During gluing, it does not require the use of hardener and heating.

After drying, it retains the strength and flexibility of the glued object.

It is durable and flexible.

The glue is transparent and can be used to repair items of different colors.
DR.BOAT - is a product capable of removing virtually any defect caused by a PVC product at the molecular level.
Dr. BOAT is not an ordinary glue, it is an innovative combination of a liquid patch and PVC glue with a unique chemical composition, giving it unique properties, such as:
· UV resistant,
· Vulcanization (monolith with product),
·
The original properties of the material structure are preserved,
Adhesive DR. BOAT 2 in 1 can be used to repair countless products in any situation:
repair of pontoons and inflatable boats, tents and inflatable tents, tarpaulins for trailers (e.g. after an attempt to break into a truck trailer)
repair of inflatable pools, inflatable houses, balls and toys for children
repair of plastic parts in the car, car bumpers, caravan roof
repair of trampolines, commercial pavilions, kayaks and catamarans
repair of swimming suits, water shoes, gloves, caps
bonding shoe soles, bicycle and motorcycle saddles, car seats
repair of water beds, air mattresses
Brief instructions for use:
Variant with a patch:
We carefully degrease the glued surfaces. We lubricate the patch and the glued object with a thin layer of glue. We put the patch on the object to be glued and press it down and keep it for 1 minute. The minimum drying time is 6 hours, but it's best to wait 24 hours.
A variant without the use of a summerka:
We degrease the damaged place.
The glued object should be secured against moving.
Apply glue to the damaged place with a thick layer on the surface 1 cm larger than the damage.
We apply a second thick layer.
After 5 hours, remove the protection against movement and after 24 hours the glued object can be used.
In the case of larger damage (cut above 3 cm), the repair is carried out using a reinforcing mesh, which comes complete with glue. We prepare a mesh 2 cm larger than the damage. Thoroughly degrease the surface. We apply glue to the damaged place and press it into the mesh. After 20 minutes, apply the glue again on the surface 1.5 cm larger than the previous layer. The glued place is sufficiently strong after 24 hours.
The product does not freeze at a relative negative temperature, but it is not worth repairing your product at low temperatures.
*Liquid Rubber Patch Liquid Patch EVA Tube 7ml
Liquid Patch EVA "Liquid Patch" rubber is a simple and reliable repair of damage to shoes and other rubber products in any conditions, now you do not need to use either dryer or patch or glue!!!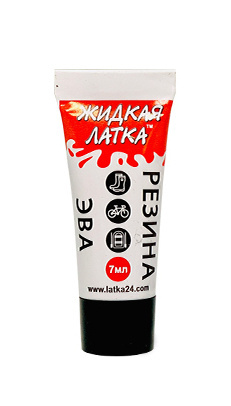 Almost every angler has in his arsenal shoes made of this material. And almost every time they get damaged, you have to buy a new pair. With the new product "Liquid Patch" Eva the repair of boots becomes not only possible but very easy.
Unlike the well-known Liquid Latka (liquid PVC), Liquid Latka Eva is an adhesive and is even easier to use than many other "Moment" adhesives.
To make the repair, degrease the glued surfaces, apply glue to the future seam, bond the glued surfaces firmly together and hold this way for a few minutes. After 2 hours the shoe is ready for use.
Basic recommendations for use:
1. The product does not freeze in relative sub-zero temperatures, but it is still not worth repairing the product in cold temperatures. The ideal liquid patch works already from +10°C .
2. Apply a second coat (if necessary) of Liquid Patch on top of the "fresh" first coat, preferably on the emptied product.
3. After applying the Liquid Patch, the product can be applied after 2-4 hours.
4. Degrease the surface to be repaired - this will greatly improve the repair!
5. For aesthetic reasons, use electrical tape (painter's tape).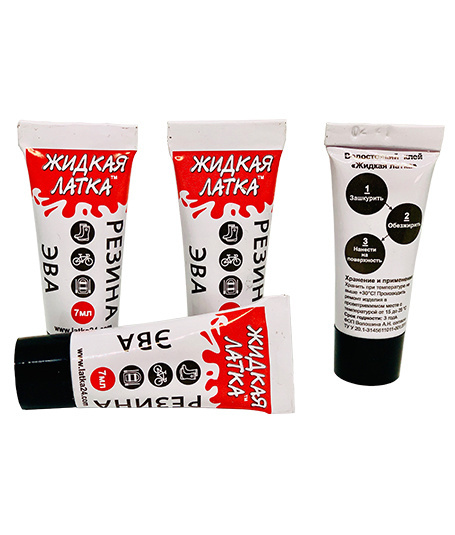 There is currently no comments or ratings for this product.

Recently viewed products

Other Customers also purchased

Similar products